Dental Implants in Florence
Missing teeth can make you feel like you're missing out on the everyday activities you once took for granted. Eating, speaking, and smiling are all a little more difficult when you have a space or multiple gaps in your smile. The Pinnacle Family Dentistry team wants to help you get your mouth back to full function and your smile back to a healthy appearance, and we can do that with dental implants.
Our dental office has the capability to complete the entire dental implant process, which is a two-step procedure (the placement of the implant and the placement of the restoration). Instead of having to visit two separate dentists to restore your smile, we'd be happy to take care of everything for you in-house.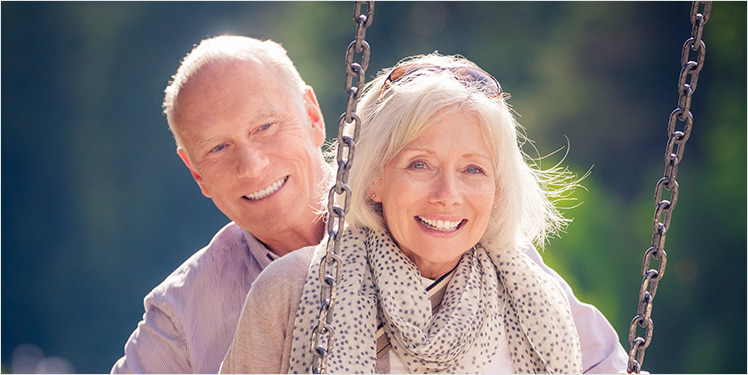 What Is a Dental Implant?
A dental implant is the preferred way by many patients and dentists to replace missing teeth. Its design is based on the structure of a natural tooth. The implant itself is a small biocompatible screw that we place in your jaw to act as a tooth root. Once it has fused with the bone, it becomes a solid anchor for us to place the toothlike restoration on top.
What Kinds of Dental Implants Are There?
Dental implants can be used to replace one tooth or many missing teeth. They can even be used to give your dentures a better fit.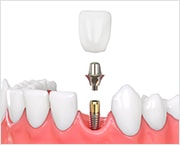 Single Tooth Replacements
One missing tooth replaced by one implant.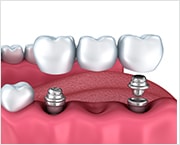 Multiple Tooth Replacements
Multiple missing teeth replaced by a dental bridge fixed in place with implants.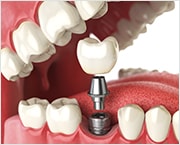 Mini Dental Implants
Missing teeth replaced with smaller versions of traditional dental implants (can be placed in just one visit!).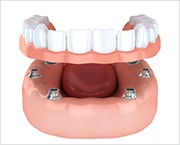 Denture Stabilization
Dentures secured in place by snapping onto dental implants.
Why Choose Dental Implants?
Many people don't realize that the benefits of dental implants extend beyond just getting to have a full smile again. They stimulate your jawbone like healthy teeth do, which means they prevent it from shrinking. When that kind of bone loss occurs after tooth loss, it can make your face look more sunken or aged. They also keep your surrounding teeth from shifting into open spaces, which could end up changing the alignment of your teeth for the worse.
Of course, the biggest draw of dental implants is that they look and feel very natural. You won't ever have to take them out to clean them (you can just brush and floss them like normal), and they're secured in place so you can chew with ease again. We bet it'll be hard for people to spot the difference between your real teeth and your dental implants!
Am I a Candidate for Dental Implants?
We recommend dental implants for patients who have good oral health. The procedure can be a little trickier for those with gum disease, immune deficiencies, or other concerns. To get a good sense of whether or not you're a candidate for dental implants, schedule an evaluation with Dr. Mulzer at Pinnacle Family Dentistry today!
Make Appointment